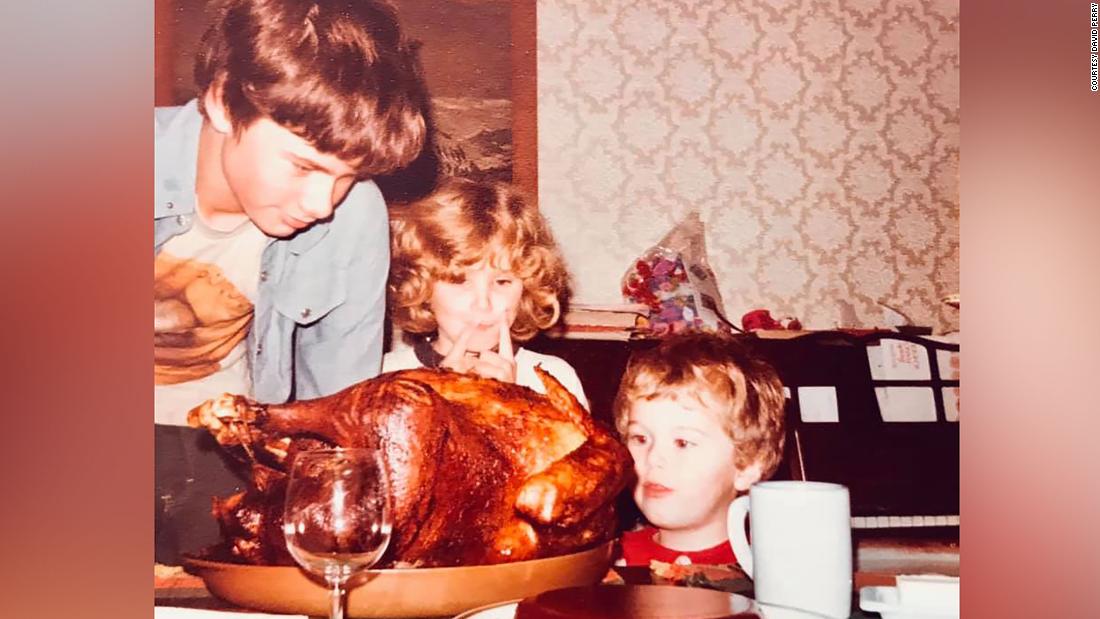 (CNN)In the 1940s, as my family story goes, my grandmother Irma worked for Armed Services Editions, a publisher that sent more than 122 million books to servicemen around the world. One of them was a strange collection of essays by the writer Morton Thompson, including "How to Cook a Turkey."
The Thompson turkey recipe, which begins with classical quotations and includes more than 30 ingredients in the stuffing, a mustard-egg shell for the bird and an every-15-minute basting regimen,
has become
legendary
in food
circles
.
The story I heard from my mother is that my great-grandmother Betty tried Morton Thompson's recipe back then, and it's been with us ever since. The pattern of my life has been that on Thanksgiving, in kitchens from New York to Tennessee to Illinois to my home in Minnesota, we assemble this preposterous concoction, enjoying the labor, the company and the delicious results.
This year is different. This year we're ordering a "Thanksgiving dinner" special from a grocery store in Omaha. Other than a pie (my wife insists she must make a pie) and maybe some mashed potatoes (my daughter's request), we don't plan to cook. There's a reason our rituals are changing, and it's going to be OK.
My mother died in mid-November last year, and this will technically be our second Thanksgiving without her. The months leading up to her death are a blur of airports and phones, tears and precious moments stolen among the last gasps of her time with us.
On my last visit, when she was in hospice, I cooked for my father and sister, working in the new kitchen that mother had finished renovating just weeks before she stopped eating solid food. Other nights I spent in the hospice. I remember holding her hand and singing to her in the early morning on the day before she died, wondering if she could hear me. They say hearing is last to go. She was in pain and we were waiting for the increased morphine dose to kick in, and I found the songs she once used to comfort me coming from my mouth: "Oh the fox went out on a chilly night," "Speed bonny boat," "Blackjack Davy came over the sea."
When I came back to town a few weeks later, after last Thanksgiving, we ordered Thai food.
It wasn't easy to make the decision to order Thanksgiving dinner this year. I wanted to do it "right." I wanted to re-create the memories of the cooking, to roll back time, to feel like I did when my mother was here. But that's not possible. The stress of trying was going to interfere with the more important thing: being with my family.
Holiday rituals are supposed to be comforting, but the pressure of feeling one must live up to the expectations of not only the living, but the dead, can pull us apart. I'm hoping that you, too, can find ways to jettison the weight of expectations in order to concentrate on the people who are sharing this day with you.
In our house, by not cooking we're going to have more time to talk, play music, cry and be together. That's more precious than green bean casserole or the Thompson turkey.
A few weeks ago, I visited my father and sister on the one-year-anniversary of my mother's death, her first yahrzeit. My sister and I started digging through their basement and I found a photo album marked "David." There, loose amidst the pages of baby and toddler pictures, was a photograph of me, my sister and my brother, standing behind an enormous turkey, with a cranberry jelly mold jiggling in front. My head barely reaches above the table.
There's going to be another turkey for my family this year, though not the Thompson kind. But most importantly, I'll be standing — at a table again–with my siblings, our spouses and kids, and our dad.
And it'll be OK.
So, go ahead and order Thanksgiving dinner from a grocery store if that's easier for you this year. Or do whatever it is you need to focus on the things that really matter.
Bon appétit.
Read more: https://www.cnn.com/2019/11/23/opinions/thanksgiving-after-loss-perry/index.html