The Swedish multinationals DIY eatery hopes to popularise the dinner party by holding tutored dinner parties in Shoreditch. But is it a flatpack recipe for disaster?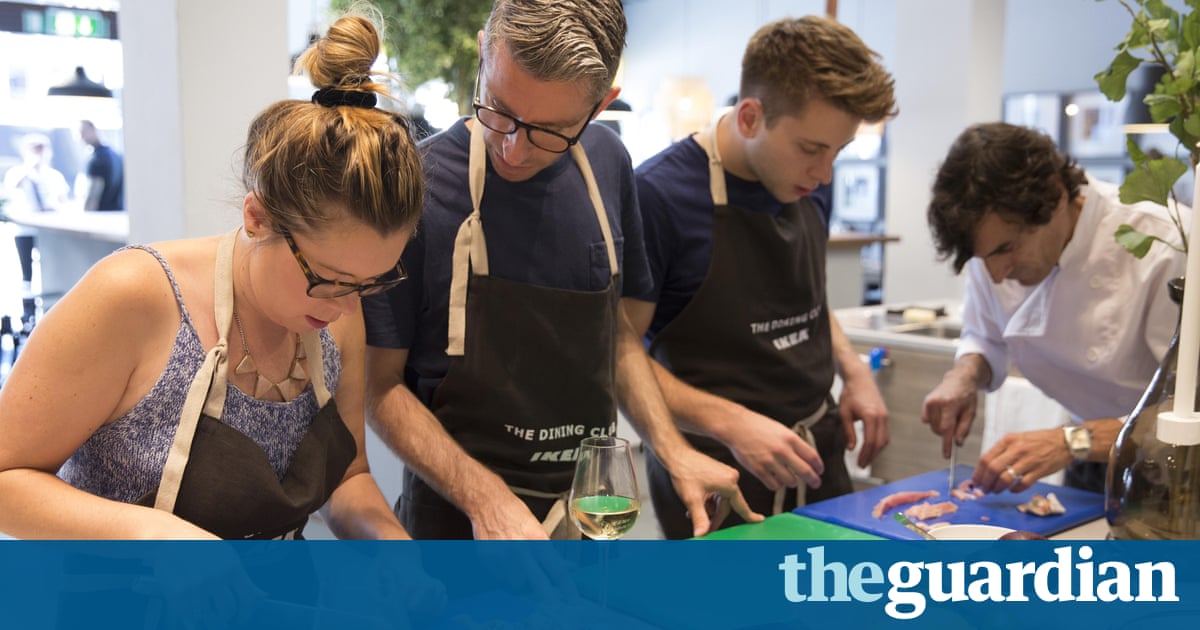 Now why would Ikea open a pop-up restaurant in Shoreditch, east London? I wouldnt even understand there being a permanent one, but at least I wouldnt be plagued with an insistent, existential sense of waste, making me yearn for a giant metaphorical recycling system, probably from Ikea.
The Dining Club, as it is called, showcases Ikeas wares, including the smallest kitchen in the world, which is about the size of a bath. It runs workshops. It employs chefs. It sells Daim bars and has plates full of fake meringue. It hosts tutored dinner parties, with crispbread-centric menus, all for free if you get on to the website fast enough. It has a virtual reality kitchen which (I have to admit this is cool) enables you to experience your workspace from the height of your pets. But why? I dont really know, says Fred Bolin, 41, the head chef. Im just a bit of a stupid chef. Im just thinking about the food.
We run a Life at Home report every year, says Jordi Esquinas, 35, Ikeas head of cooking and eating. And we realised people were spending less and less time cooking and eating. OK, so maybe they need to popularise the dinner party; but why micro-market it to a few score opinion formers? Why?
Then I had an epiphany; the genius of Ikea is that they dont ignore the undesirable. They approach them head-on, and revel in them. Back at the carefree turn of the century, when our biggest problem was how to assemble a Billy bookcase without having to immediately divorce you had to sign a pre-nup before you started about who would get to keep it they turned that into the selling point. Life was meant to be hard. Sweat was Swedish, and Swedish was good. Recently, as lifestyles have become more, shall we say, on the edge, they brought out their microapartment catalogue: dystopian box-living where your children sleep in a bunk above your tiny table, while your friends eat off the floor like dogs.
And across these decades of huge social change, there has been one constant: that as soon as you set foot in an Ikea, you long to escape. You cant; you havent found what you came for, and youve come many miles. You get distracted by a plant pot. You suddenly need a new chopping board. You havent even reached the bathroom section, and its already dark. This was a bold, some might say reckless attempt to make a feature of that, turn the very space that alienates us most into a hearth, a home, a community. If anyone would buy it, it would be the good burghers of east London.
I came out with a load of herring, so they got to me too.
The Dining Club by Ikea is open until 25 September.
Read more: https://www.theguardian.com/business/shortcuts/2016/sep/18/ikeas-popup-restaurant-a-flatpack-recipe-for-the-undesirable